Lightness and perfect balancing of the cutting machine, allow an important reduction of vibrations.

The clamp can be used without hinging the saw. The lateral guides of the clamp assure a perfect orthogonal cut.
Blade's orbital movement regulation.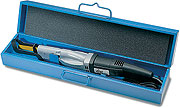 Complete saw with clamp 4" and one blade type A, in metal case.
TECHNICAL DATA
- CEI double isulation motor, 230V 50-60Hz 1010W - 4,9A
- Speed 2200 RPM
- Die casting alu body

- Gears and mechanism in hardened steel
- Weight kg. 2,7
OPTIONAL
Clamp for 4" pipes (code 000544).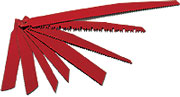 BLADES FOR RECIPROCATING SAW SIRIO
Type A - for pipe up to 2" and metal from 3 mm (code 000495)
Type B - for pipe up to 4" and metal from 3 mm (code 000496)
Type C - universal mm 150 (code 000457).
Type D - universal mm 200 (code 000500).
Type G - for wood (code 000501).