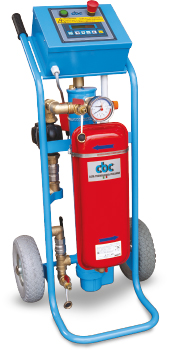 KSM 9
Screed heating boiler
The boiler mod. KSM 9 has an adjustable thermal system from 1 to 9 KW and is suitable for the production of low and high temperature hot water. It is supplied with an LCD display control panel, pressure gauge, thermometer, 3 bar calibrated safety valve, circulating pump, temperature sensor, corrosion resistant membrane expansion, hot water load and discharge valve, input and output ball valves and vent auto valve. It is entirely electrically wired and mounted on a trolley having inflatable wheels to facilitate the displacement. This tool is the sum of the thermal technology, which bases traditional boilers, combined with all safety devices foreseen for a simple use by the installer.

TECHNICAL FEATURES
- Anti-theft device: customizable PIN code;
- Feed: 230V/400V (3P+N+T) (230V with the cable kit included in the standard equipment);
- Manual re-activation emergency button and on/off switch;
- Boiler rating: 9 KW (380V - 3 resistances – each 3 KW/ 230V – 1 resistance – max. 3KW);
- Membrane expansion capacity: 8 liters;
- Safety valve calibration: 3 bar;
- Maximum operating pressure: 3 bar;
- Constant temperature adjustment: from 0°C to 85°C;
- Safety thermostat: 90°+/-5K;
- PT 100 temperature probe: class B, accuracy +/-5%;
- Electrical protection rate: IP44;
- Minimum water pump delivery: 100lt/h;
- Weight without water: kg. 32;
- mm-sized dimensions: 500x520x1100h.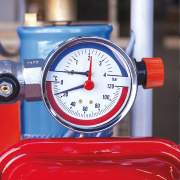 Pressure gauge and thermometer.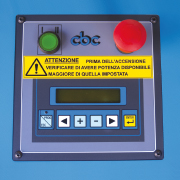 LCD display for programming and adjusting the temperature. It is equipped with a simple and easy software which allows to insert a customizable PIN code. This code can be modified by the operator to avoid the use by non-authorized people (anti-theft device). Moreover, a manual re-activation emergency button and an on/off start button are included.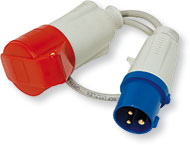 230V cable kit included in the standard equipment for using the boiler mod. KSM 9 in civil environments with 230V feeding.